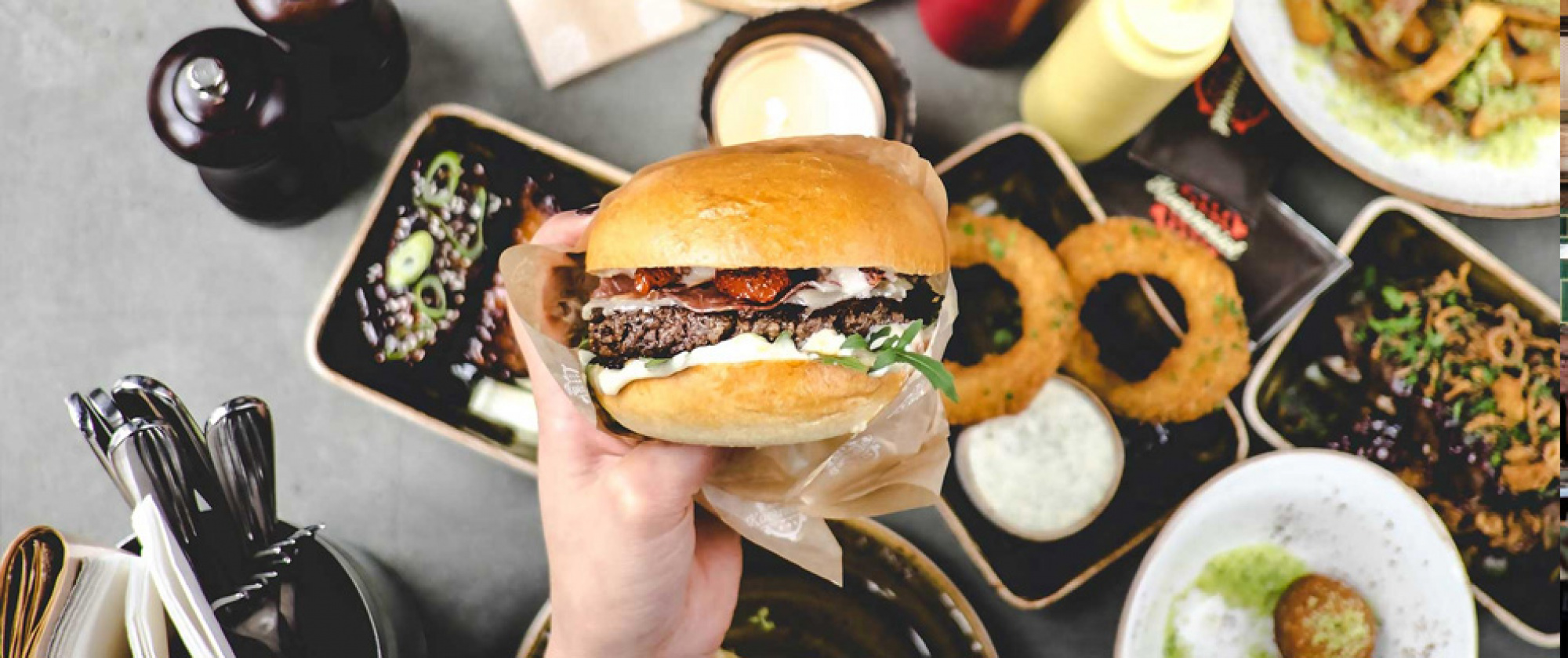 Here at Kverneriet we put our heart & soul into the three most important elements of a great burger meal. The bun, the meat & the fries. We grind our high quality beef ourselves and serve our burgers medium plus to well done.
Single: 150 grams – Double: 200 grams +55,-
Limited Edition Burger
We always serve a limited edition burger as a compliment to our ordinary burger
selection – ask your waiter for more info.
Burgers
En burger med parmesan crisp, løkchutney, soya tilført shiitake-sopp, langsomt bakte tomater, ketchup og chili mayo. Umami betyr "behagelig, smakfull smak" Og denne burgeren leverer virkelig en munnfull av det
En burger full av smaker. Pakket med stekt sopp, løk, honning og pepper glasert bacon, chipotle mayo og Jarlsberg ost
En smaksbombe av en burger inspirert av den ikoniske thailandske retten Tom Yum - fullpakket med koriander og vårløk på en cheddar toppet patty, hviler på en på en seng med sopp og et lag deilig krydret Tom Yum dressing. Oh, that's my-thai delicious!
Asian Sensation (kan lages som vegetar)
175
En asiatisk inspirert burger - Bunnen er spredt med sesam-mayo mens det hoisinglasert biffpattedyret hviler på syltet agurk, sprø gulrøtter, tangy løk, krydret chili og vår egen chili-mayo - toppet med ost, fersk koriander, sprø vårløk og stekt rosa peanøtter. Velg mellom HOT eller HOTTER.
A BBQ feast in a bun! Our juicy beef patty rest on a bed of creamy coleslaw with a hint of caraway and a generous splash of our own sweet and spicy BBQ sauce – topped with Irish cheddar, crispy fried shallots, smoky bacon and yet again a splash of our awesome BBQ sauce.
A flavour-packed burger that begins and ends with creamy and salty blue cheese. Paired with yuzu infused tomato chutney, toasted pistachios, crispy fried kale and rounded with creamy truffle mayo – it's a umami treat and you're invited!
Fresh lettuce, tomato, onions, double slices of Cheddar cheese, ketchup and Kverneriet's special dressing. An old school burger re-modeled here at Kverneriet. Bacon +25
We give you two of our succulent beef patties both topped with Cheddar cheese, ketchup & mustard. Classic and simple. It is said that the man who invented the hamburger was smart; we say that the man who invented the cheeseburger was a genius. Bacon +25
Future Classics
A classic Caesar salad with bacon, semi dried tomatoes, red onion and crutons, served with batter-fried strips of marinated chicken. Price half portion/full portion
Juicy duck confit with rich hoisin sauce is served on a crispy vegetable salad of sugar snaps, bean sprouts, cilantro, cherry tomatoes, cucumber and carrots – dressed with a tangy Vietnamese vinaigrette and served with chili mayo and salty roasted peanuts.
By popular demand we have brought back the Original Ribs – smoked for two hours and oven roasted with our original sweet and savory rib sauce – served with coleslaw and topped of with crispy fried onions.
Hot & Spicy Chicken Wings
169
12 Chili-glazed chicken wings served with celery, blue cheese dip and topped with spring onion.
Side og Starters
Hot & Spicy Chicken Wings
95
6 biter av chili-glaserte kyllingvinger servert med selleri, blåmuggost og toppet med ristede sesamfrø
250 gram av vår originale, søte og salte glaserte spare ribs
Tre store ostekuler og 3 typer chili
En coleslaw i kremet stil laget med fersk hakket kål, paprika, løk og fennikel.
En enkel grønn salat med vinaigrette, Parmesan og syltet rødløk
Norske sprø biter av saftig potetkake servert med en rik trøffelmayo - toppet med trøffel pecorinoost, gressløk og sprø poteter
Fries
We are proud of our handmade fries. It's a long process to prepare them, and we believe you will taste that all of that hard work is worth it.
Thin cut and triple cooked fries
Thick cut and triple cooked fries
Toppings & Seasonings
Parmesan & Parsley Topping
19
Truffle & Parsley Topping
19
Truffled cheddar cheese sauce with glazed crispy beef shavings.
Dipping Sauce
Limited edition dip that changes every other week. Ask your waiter for more info.
Desserts
Strawberry sorbet, leather and gel paired with hazelnut crumble, lemon balm powder, yuzu gel and coconut sorbet. It's a real frosty sweet treat!
Our interpretation of this rock old classic, and one of our first desserts at Kverneriet. Handcrafted vanilla ice cream, brownie, caramel sauce, and peanuts. Totally unbalanced, but damn good.
Milkshakes
Chocolate ice cream milkshake topped with whipped cream.
Vanilla ice cream with chunks of chocolate chip cookie dough topped with pecans.
Vanilla ice cream milkshake with strawberry swirl topped with whipped cream.