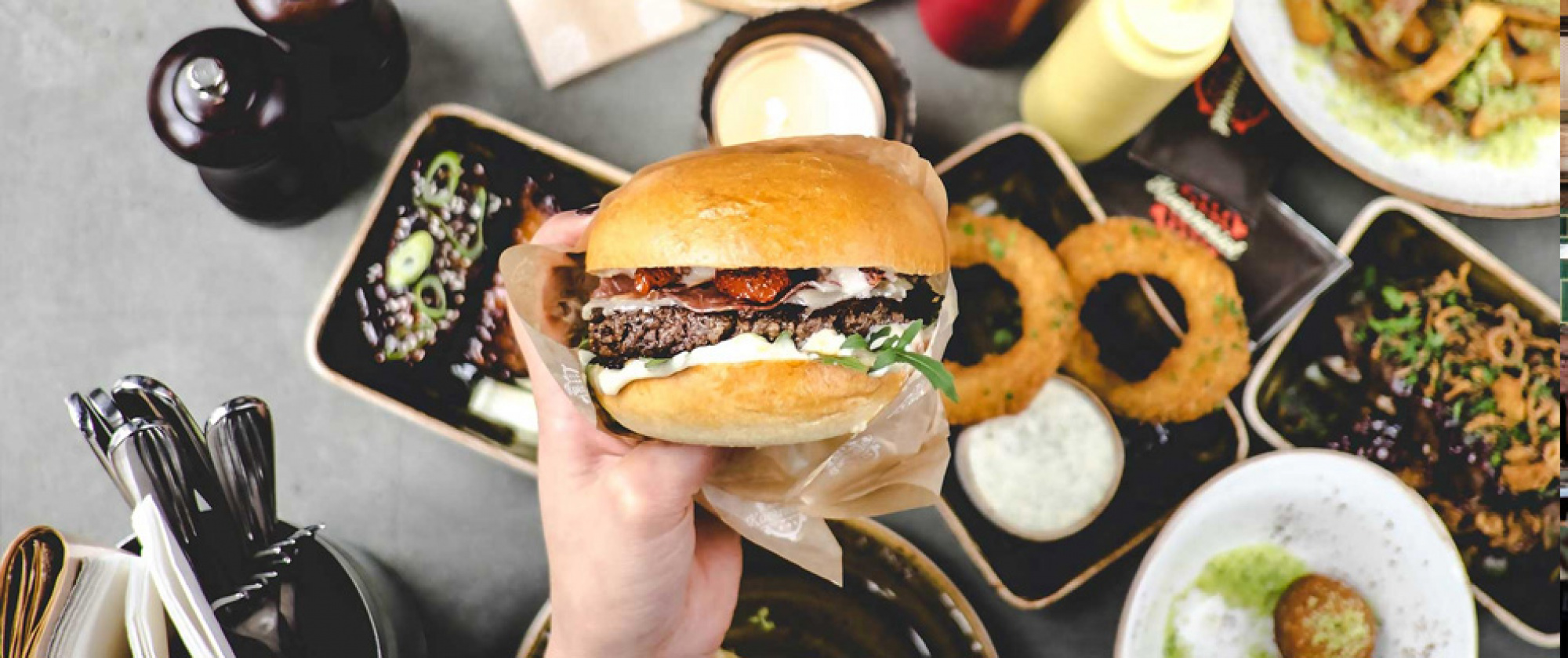 Sideretter & Starters
Varme og krydrede kyllingvinger
119
6 stykker chili-glaserte kyllingvinger servert med selleri, blåmuggost-dip, toppet med ristede sesamfrø.
250 gram av vår originale søte og salte glaserte spareribs.
Sprø biter av saftig potetkake servert med en fyldig trøffelmayo – toppet med trøffelpecorinoost, gressløk og potetcrisp.
Tre store ostekuler og 3 typer chili dobbelt belagt med ølrøre og stekt.
En enkel grønn salat med vinaigrette, parmesan og syltet rødløk.
En kremaktig coleslaw laget med fersk hakket kål, paprika, løk og fennikel.
Future Classics
A classic Caesar salad with bacon, semi dried tomatoes, red onion and crutons, served with sous-vide strips of marinated chicken. Served in 1/2portion or 1/1port.
Juicy duck confit with rich hoisin sauce is served on a crispy vegetable salad of sugar snaps, bean sprouts, cilantro, cherry tomatoes, cucumber and carrots – dressed with a tangy Vietnamese vinaigrette and served with chili mayo and salty roasted peanuts. Can be made peanut free.
By popular demand we have brought back the Original Ribs – smoked for two hours and oven roasted with our original sweet and savory rib sauce – served with coleslaw and topped of with crispy fried onions. 500g
Beer and vodka battered fillet of cod – fried to crispy perfection and paired with mushy peas, cooked red cabbage and topped with butter fried bacon and served with a side of fries with bacon mayo.
Hot & spicy chicken wings
209
12 Chili-glazed chicken wings served with celery, blue cheese dip and topped with spring onion.
Burgers
Her på Kverneriet legger vi hjerte og sjel i de tre viktigste elementene i et godt burgermåltid. Bolle, kjøtt og pommes frites. Vi maler vårt høykvalitetsbiff selv og serverer våre burgere medium pluss til gjennomstekt. Enkel: 150 gram – Dobbel: 200 gram +65,-
This month we bring you a BBQ feast in a bun! Our juicy beef patty rest on a bed of creamy coleslaw with a hint of caraway and a generous splash of our own sweet and spicy BBQ sauce – topped with Irish cheddar, crispy fried shallots, smoky bacon and yet again a splash of our awesome BBQ sauce.
A burger with Parmesan crisp, onion chutney, soya infused shiitake mushrooms, slow baked tomatoes, ketchup and chili mayo. Umami means "pleasant savoury taste" and this burger does indeed deliver a mouthful of that.
A burger full of flavors. Packed with fried mushrooms, onions, honey and pepper glazed bacon, chipotle mayo and Jarlsberg cheese.
The winner of Burger Cup 2022 – Hot Chick! We have swapped our regular beef patty for a juicy, cornflakes encrusted chicken patty – topped with a creamy jalapeño Cheddar sauce and paired with a hot jalapeño mayo, lettuce salad mix, tangy pickled jalapeños and fresh chimichurri. Let's bring the heat!
Can be made EGG, MILK and ALMOND free
Let The Captain take you on a trip around the world. The beef patty is topped with creamy and tangy manchego cheese, spicy jalapeño glazed bacon, crunchy toasted almonds paired with sweet and sour kiwi chutney – while resting on a bed of peppery rocket salad and creamy mushroom mayo. Blimey it's good!
Can be made VEGAN or LACTO-OVO VEGETARIAN
An Asian inspired burger – the bun is spread with sesame mayo while our hoisin glazed patty rests on pickled cucumber, crispy carrots, tangy onions, spicy chili and our own chili mayo – topped with cheese, fresh cilantro, crispy spring onions and roasted pink peanuts.
Choose between: HOT or HOTTER / BEEF or VEGGIE patty.
A flavor bomb of a burger inspired by the iconic Thai dish Tom Yum – packed with coriander and spring onions on a cheddar topped patty, resting on a bed of mushrooms and a layer of deliciously spicy Tom Yum dressing. Oh, that's my-thai delicious! Can be made gluten free.
A flavour-packed burger that begins and ends with creamy and salty blue cheese. Paired with yuzu infused tomato chutney, toasted pistachios, crispy fried kale and rounded with creamy truffle mayo – it's a umami feast and you're invited!
Fresh lettuce, tomato, onions, double slices of Cheddar cheese, ketchup and Kverneriet's special dressing. An old school burger re-modeled here at Kverneriet. Can be made gluten free.
Bacon: +25.-
We give you one of our succulent beef patties, perfecty fried – topped with Cheddar cheese and served with ketchup & mustard. Clean and simple. It is said that the man who invented the hamburger was smart; we say that the man who invented the cheeseburger was a genius. Can be made egg & gluten free.
Fried onions: +10.- Bacon: +25.- Extra patty w/ cheese: +65.-
Triple Cooked Fries
We are proud of our handmade fries. It's a long process to prepare them, and we believe you will taste that all of that hard work is worth it. Our fries are gluten free.
American style thin cut and triple cooked fries.
Thick cut and triple cooked fries.
Toppings & Seasonings
Parmesan & Parsley Topping
35
Truffle & Parsley Topping
25
Dipping Sauce
Limited edition dip that changes every other week. Ask your waiter for more info
Desserts
Something small and sweet that goes well with a cup of joe.
Vegan. A decadent chocolate cake served with a fresh passion fruit sorbet with a dash of heat, sweet forest fruit coulis and topped with almond croquant.
Mascarpone donut balls coverd in cinnamon sugar served on a bed of caramel braised apples – topped with vanilla ice-cream and brown sugar salty caramel sauce.
Vanilla ice cream with confetti sprinkles pressed between two chocolate chip cookies.
Milkshakes
Chocolate ice cream milkshake topped with whipped cream.
Vanilla ice cream milkshake with chunks of chocolate chip cookie dough topped with whipped cream.
Ask your waiter for more information.